Vote and post the comments down below of who would win.
Heisei Imago Mothra
Mothra has the Cry of Peace attack
Heisei King Ghidorah
They are fighting each other at the same time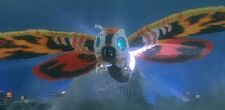 Flight - Can fly at Mach 3
Strong Winds from Winds
Antenna Beams
Can drop scales from wings that can deflect energy attacks
Cry of Peace (Her attack power)
Telepathy
Energy Conduction through touch
Can release it as lightning from her wings
Can create Fairy Mothra's (Telepathic Versions of herself)
Can lift 60,000 tons with some support (i.e Carrying Godzilla with Battra's help)
Burning Godzilla
Edit
Infinite Heat Ray
Burning Heat Ray
Nuclear Pulse
Godly Strength
Regeneration
Can absorb lightning
Body emits immense heat
Can install energy into others
Weaknesses
Edit
Is Vurnable to Oxygen Destoroyer
Will explode if his temperature reaches 1200 degrees Celsius
King Ghidorah
Edit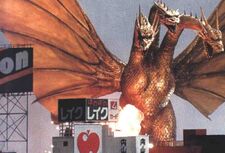 can lift over 60,000 tons.
can fly at the speed of Mach 3.
can shoot Gravity Rays from his Mouths.
can use his Necks to constrict his opponent.
Hurricane winds from wings.
Godzilla 2014
Edit
Atomic Breath
Godly Strength
Powerful Jaw
Strong Tail Whip
Mothra vs Burning Godzilla vs King Ghidorah vs Godzilla 2014