It's another battle of AQW bones. It's Death vs Noxus the Lich Master of Necromancy.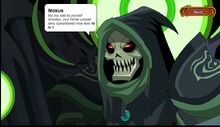 Death's Powers
Edit
Not much is known about his powers. He can turn a dragon into a dracolich. He uses an hour glass, wields a scythe and can turn into a human.
Noxus' Powers
Edit
Noxus created the Undead Paladin Slayer, Vordred and can summon him anytime. He is a master of necromancy and magic. He even has an undead army.